Alright, friends. Get ready for a taste of Morocco with this slow cooker lentil recipe that's sure to spice up your mealtime routine. Packed with protein, fiber, and a rich blend of spices, this dish is perfect for those chilly evenings when you want something hearty and filling. Plus, with the magic of the slow cooker, you can set it and forget it, and let the flavors develop over time. So grab your apron and let's get cookin'!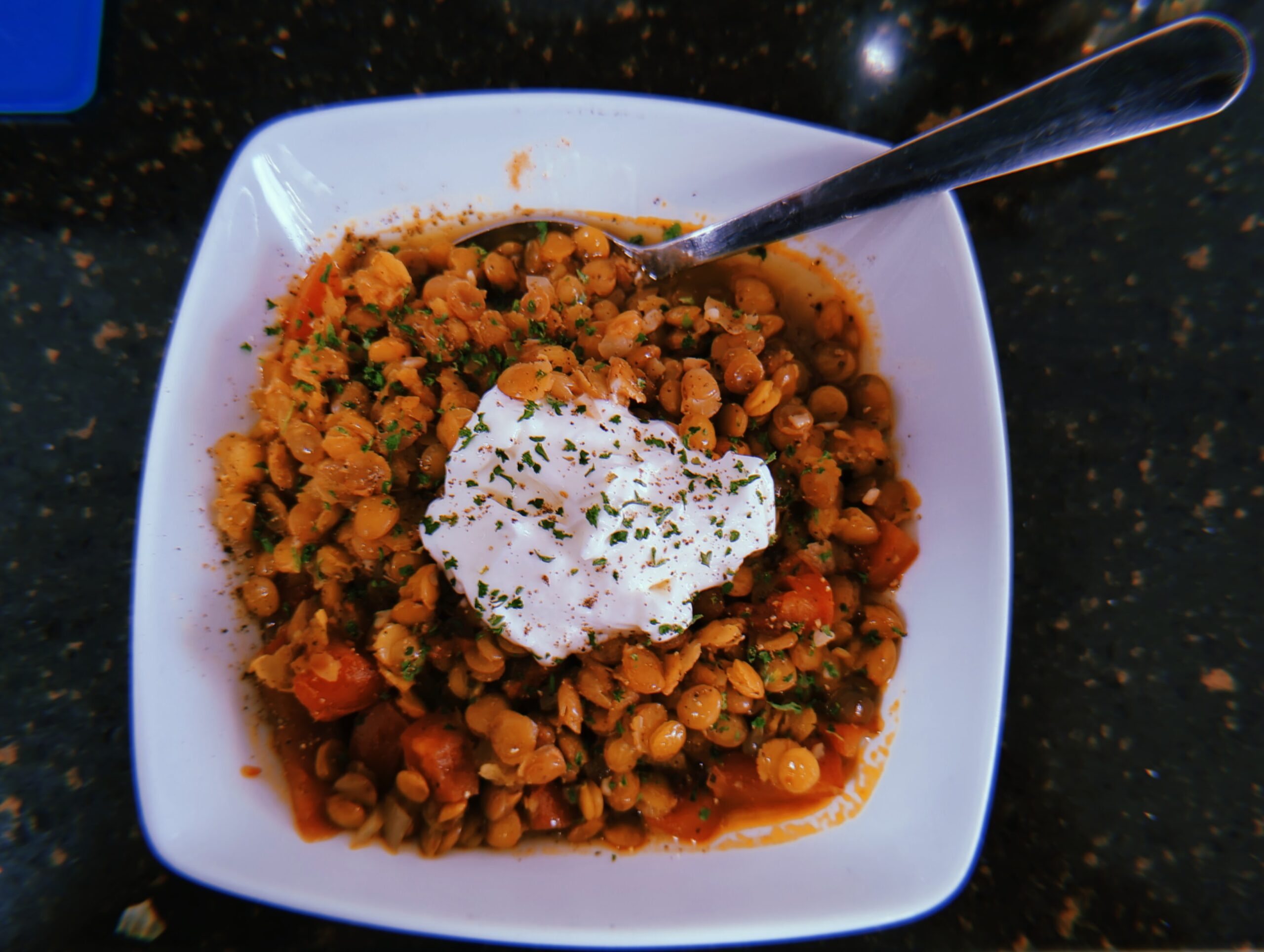 Slow Cooker Moroccan Lentils
With a blend of aromatic spices, hearty lentils and such little prep time, this dish is sure to become a staple in your meal plan.
Ingredients
2

cups

dry lentils

(I prefer green, but brown will work too!)

1

yellow onion

diced

2

tomatoes

diced

3

garlic cloves

minced

1

tbsp

paprika

1

tbsp

cumin

2

tbsp

sea salt

(or kosher)

½

cup

parsley

(chopped, optional)

8

cups

water
Instructions
This step is optional if you're lazy or don't have a Ninja foodi that you can sauté within the same pot before slow cooking.

Add a little bit of oil, sauté the onions for 3/4 minutes then add the garlic and tomatoes for another minute.

If you didn't do the previous step, it's totally ok, just add all the ingredients to the slow cooker: onions, garlic, tomatoes, lentils, half the parsley, paprika, cumin, salt and water.

Cook on high for 4 hours, or on low for 8.

Serve in a bowl and garnish with the remaining parsley.

You can also serve it with a spoon of cream, greek yogurth, tortilla chips, rice, whatever you fancy with it; you got the healthy base already!
Notes
Leftovers: You can refrigerate them in a container up to 5 days, but I doubt it'll last that long.
Have y'all tried it yet?
Let me know how it turned out for you by dropping a comment below! Don't forget to tag @damnthatsdelicio.us on Instagram and throw in the hashtag #damnthatsdelicious so I can check out your tasty creation. Can't wait to see what you whip up!