Growing up in the south of France, I used to devour this dish simply called "Eggs with Spinash" at my school cafeteria; it's a simple yet satisfying combo of creamy spinach, baked eggs, and crispy breadcrumbs on top – the perfect comfort food.
One day it came back to me, I haven't eaten this for a good 20 years, and now here I am craving it, so I decided to try my hand at recreating it. After some trial and error, I finally came up with a recipe that brings me back to those middle-school cafeteria days. This spinach and egg gratin is easy to make and seriously tasty. Give it a shot and let me know what you think!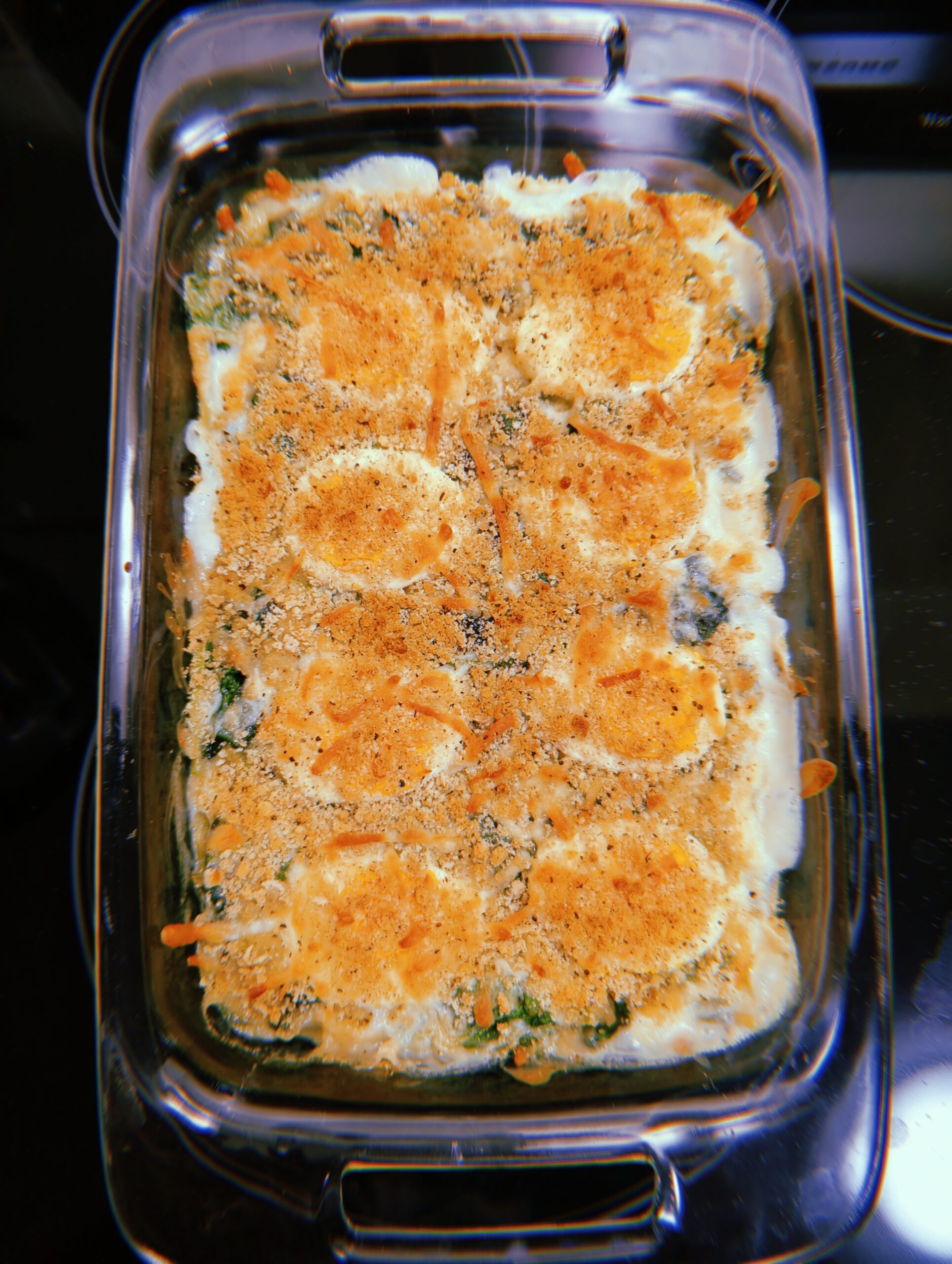 Spinach and Egg Gratin: A Provençal Classic
A simple yet satisfying combo of creamy spinach, baked eggs, and crispy breadcrumbs: that's what I call comfort food. And you don't have to be vegetarian to enjoy it!
Ingredients
1

kg

fresh spinash leaves

(or 450g frozen)

2

large eggs

(If you want 2 or 3 eggs per person, you're the master of your own destiny!)

1/2

cup

grated cheese

breadcrumbs

minced garlic

(to taste, optional)
Béchamel Sauce (If you're lazy, swap with heavy cream)
1

cup

milk

(yes that's 1/4 liter or 250ml)

20

g

butter

(salted, unsalted, go with your tastebuds)

20

g

flour
Instructions
Preheat oven to 390ºF/200ºC.

Boil the eggs, after 10 mins put them aside and let them chill out there.

Wash the spinach leaves and remove any tough stems, you can cut them or leave them whole.

Some people like to boil them, and some like to cook them in a pan; I like to do it in the pan, but you can just follow the instructions on the frozen package.

Put olive oil (or whatever fat you want) in a large skillet over medium heat. Add the minced garlic and cook until fragrant, about 1 minute.

Add the spinach to the skillet and cook until wilted, stirring occasionally, for about 5 minutes.

If you took the lazy way, skip to the next step, if you know how to make it already, it's great, if you don't, consider learning how to make the white sauce!

In a saucepan, melt the butter over low heat. Sprinkle the flour in the pan and mix gently for 2 min. Add the cold milk – it prevents the lumps – and stir until the sauce thickens. Add salt and pepper; I like to add nutmeg to it, if you see some around you go ahead, do it!

In the baking dish, add the spinach, pour the bechamel on top and mix them together.

Cut the eggs in half, put them on top, move a little to create a lovely bed of creamy spinach.

Sprinkle the grated cheese and breadcrumbs on top, bake in the oven for 10/15min until all is bubbly and the breadcrumbs looks crispy; feel free to finish with the broiler!
Notes
Lazy Adaptation: Swap the bechamel with heavy cream and skip the baking, replace breadcrumbs with croutons and you're good to go!
Did you make this recipe?
Damn, let me know how it turned out for you! Leave a comment below and tag @damnthatsdelicio.us on Instagram and hashtag it #damnthatsdelicious.